Research & optimization for content production is difficult, especially when you're trying to meet the ever-shifting demands and interests of a particular market (or several markets, depending on your business model). That is why you should get help from a powerful AI-driven platform and learn how to use MarketMuse. 
The importance of content in marketing cannot be overstated. According to HubSpot, 47% of buyers view three to five pieces of content before engaging with a sales rep. 
Familiarization with your brand and your status as an authority in the field plays a huge role in a consumer's decision to purchase.
Looking again at the same study, 82% of marketers report actively using content marketing in 2021. 
That is one crowded market if we've ever seen one, meaning it's going to take some effort to stand out from the rest. 
If you've written content online for any length of time, then you know the importance of optimizing that content to be easily identifiable by Google's search engine algorithm. 
Think of the Internet as a giant warehouse. If your box of content isn't properly labeled, the workers won't know what audience to show it to, so it becomes lost in the shuffle, forgotten and left behind.
MarketMuse is an AI-powered platform that aims to stop exactly that from happening to your content. 
Not only can you truly differentiate your content from your competitor's, but you'll also wind up with a much more streamlined and quicker process while you're at it. 
MarketMuse already has an extensive library of tutorials and explanations regarding their website and the methods they employ, but today we wanted to give you an overview – a brief rundown of how to use MarketMuse and our favorite apps within it. 
Feel free to jump around if you only want to read about a specific functionality!
The First Step in Learning How to use MarketMuse is Understanding
 "Content Score"
This is a score given to pieces of content to measure their probability of getting a high SERP ranking. It uses a special algorithm that takes into account things like length, relevant topics used, and distribution of the topics, among other things.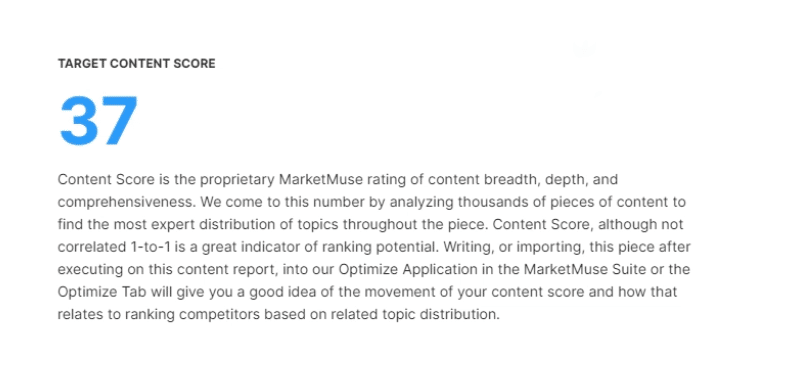 Moreover, all the various rankings in the apps below (topic distribution, content score, etc.) are color-coded for easy use. The order goes from highest to lowest like so:
Blue =>  Green => Yellow => Red 
With the basics out of the way, let's jump straight into the apps we love!
How to Use MarketMuse Research
This is where the process of creating a piece of content from scratch usually starts. 
Forget about the days of getting surface-level information from a 3-hour topic research session that covers ~10 websites. As a brilliant example of the potential of marketing automation, the patented topic modeling AI goes through thousands of web pages, coming up with the most relevant related topics to give you a clear path to putting out expert-level content. 
All you need to do is enter a topic you are interested in covering and a list (in order of relevance) of related topics will appear. 
Note: These are just topics, not keywords, so they should be treated as such. 
On the right side you will find several columns:
Volume

: The monthly searches for a topic, not the estimated traffic you might get from using it. 

Trend

: A mini graphic showing the evolution of the topic searches. 

CPC

: Cost per click that you might be expected to pay to show ads regarding this topic. 

Variants

: These work similarly to variant keywords and are obtained by adding words before or after the topic. If you click on the number shown, a list of available variants will appear with their specific suggested distribution. 

Suggested distribution

: The suggested number of times the topic should be mentioned, based on previously published expert articles. 
Compete With the Best of Them
This app will give you the lay of the land, showing you how others approached a subject and how you can make your take on it stand out by exploiting their gaps. 
Enter a topic and you will be given the above panel, with the 20 top-ranking pages, their content scores, and a heat map below it all. 
This heat map tracks the distribution of related topics, allowing you to identify gaps and adjust your content accordingly. 
For example, if we look at the bottom two rows in the image above, we can see that almost nobody is talking about content planning or google analytics, giving us a chance to make our content stand out by covering these adjacent topics in our content. 
You can also compare your own article head-to-head with a specific competitor by entering your URL instead of a topic and clicking on the competitor's number. 
Optimize & Fine-Tune Your Content
Here you can get real-time updates on your topic distribution and content score improvements or, if you're analyzing an existing piece of content, just paste the URL and the site will import it into the text editor automatically. 
Up top, you get the current, average, and target numbers for the Content Score and word count. 
On the right, you have the current and suggested distributions for related topics in order of relevance. 
Answer Your Audience's Questions
A majority of people turn to search engines when they have a question, so writing in such a way as to anticipate and answer these queries would be highly beneficial.
This increases the possibility of ranking on a SERP by making your content eligible for inclusion in the "People also asked" section.
Simply input a topic and you will be presented with a list of related questions that can be answered to provide more value to readers, thus increasing your Content Score. 
If you want to analyze a particular question in more detail in another MarketMuse application, simply click on the "Run in" button on the right and select your preferred app. 
How to Use MarketMuse Connect
Linking schemes are an important factor in Google's algorithm and this is where you can get top-notch recommendations on what external and internal links you should include, as well as anchor text for them. 
Just enter your article's URL and you will be shown a list of internal and external links sorted by anchor text, as well as links from competitors. 
Final Words
One other popular function which we haven't used a lot is the MarketMuse Content Brief. This acts as a blueprint for writers to make sure that their content reaches the expert tier. 
It provides a target Content Score and word count, as well as miniaturized panels of all the apps mentioned in this blog post. 
We all know the power of great content to attract potential customers to your website. This platform has many fantastic uses and we hope to have convinced you on why you should learn how to use MarketMuse. 
If you're not using MarketMuse yet, click here to get started! 
We pride ourselves on our deep knowledge library when it comes to marketing technology, which is why we feel confident in sharing our insights regarding the tools we use.
If you wish, you can contact us right here and we will schedule a call to talk about how we can help you improve your company by leveraging technology to your advantage. 
We will gladly discuss how to best create a rock-solid roadmap to achieving your vision and scaling your business, so we'll talk to you soon!